[ad_1]
Shares fell yesterday as investors pulled profit from the table ahead of today's FOMC release. Was it a reversal or just a correction?
The index lost 0.75% on Tuesday as it fell below its recent trading range. The broad stock market gauge retraced part of its rally and slipped back below the 4,650 level. On the previous Friday, the index fell to a local low of 4,495.12 and was 5.24% in below the November 22 high of 4,743.83. Then we saw another attempt to return to the all-time high and on Friday the index closed the all-time high.
Was yesterday's drop just a correction?
For now, it looks like a downward correction, but we might see more volatility after today's FOMC release and tomorrow's from the European Central Bank and Band of England. Today, the index is expected to open virtually flat and will likely trade in consolidation ahead of the 2pm Fed release.
The closest significant resistance level is now at 4,665-4,670, marked by the recent local lows and the next resistance level is at 4,700. On the other hand, the support level is at 4,610 -4,630, marked by the daily deviation from the previous Tuesday of 4,612.60 to 4,631.97. The support level is also at 4,600. The S&P 500 is close to the local low of early November, as can be seen on the daily chart (graphic courtesy of http://stockcharts.com):
Tech stocks are relatively weaker
Let's take a look at the graph. The tech index rebounded to the resistance level of 16,400. Tech stocks remain relatively weaker as the Nasdaq 100 is closer to local lows from early December.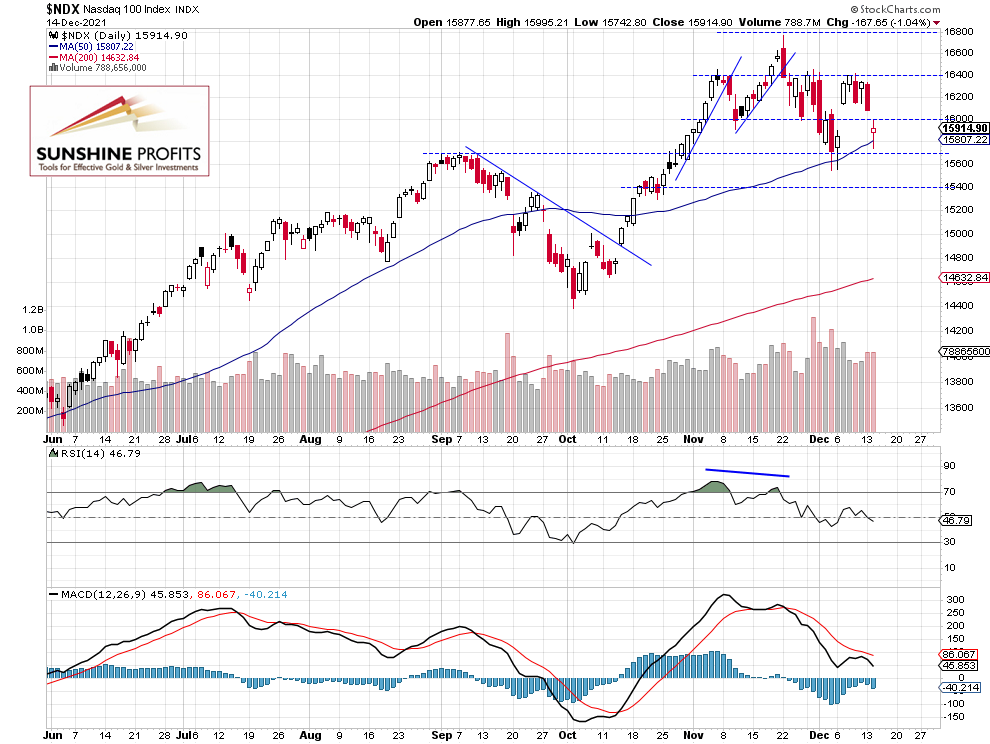 Conclusion
The S&P 500 Index will likely trade in intraday consolidation ahead of the Fed's release today. Then we could see increased volatility in stocks, currencies and commodities. The S&P 500 Index is trading as part of a downward correction and we may see more profit taking in the near term.
Here is the breakdown:
The S&P 500 is expected to open virtually flat ahead of today's FOMC release.
We are maintaining our short position starting at the 4,678 level.
[ad_2]